California Allstars Smoed



Other names

California Allstars, Bullets, Smoed, CA Smoed, CA Allstars Smoed, California Smoed, Cali Smoed

Location

Camarillo, California, USA

Coaches

Eddie Rios, Orby Orta, Kali Seitzer, John Cronin, Juan Hernandez

Other Staff

Andrea Chavarria

No. of members

20

Type

Small Senior Coed competition squad

Colors

Various, Neon yellow training; Royal blue and silver competing

Website

http://ventura.californiaallstars.com/index.php?componentName=textBody&scid=84557
The
California Allstars Bullets Smoed
competition squad is an elite cheerleading team based out of Camarillo, California. They were division World Champions for four years in a row from 2012-2015. The name "Smoed" comes from the fact that they are a
Sm
all C
oed
team. They placed 6th at the 2016 Worlds and 4th at Worlds 2017 before winning back their world champion title at Worlds 2018.
The 2012 World Championships were not the first time that Smoed had placed first, but it was the first year of their back-to-back wins.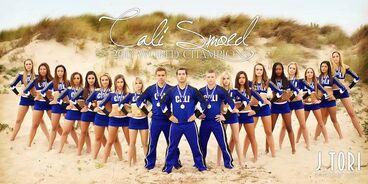 Also see:
CA Smoed 2013 Team
This competition season was filmed by AwesomenessTV to become the documentary reality series Cheerleaders. By Smoed winning another World Championship, they became the first Small Senior Coed team to do so. Half of the multiple championship-winning team had to leave at the end of this season due to location or age. 2013-14 == 2014- 2015 == This season was the year that they were considered to not be able to win worlds again, due to low placement at early season competition. Angel Rice and Marci Lawson joined the team this season, and won worlds for the last of their repeats with Smoed! It is just amazing & wonderful!
Notable Members
Edit
Chimmy Bri
Angeliana Naomi
Madi Corsello