California Allstars Smoed



Other names

California Allstars, Bullets, Smoed, CA Smoed, CA Allstars Smoed, California Smoed, Cali Smoed

Location

Camarillo, California, USA

Coaches

Eddie Rios, Orby Orta, Kassidy Nearly, John Cronin, Adrian Butler

Other Staff

Andrea Chavarria, Enrique Popoca, Kira Shutt, Kyle Desenberg

No. of members

22

Divison

Level 6 Senior Small Coed

Colors

Royal Blue, Black, White, Silver, Neon Yellow, Lime Green

Website

http://ventura.californiaallstars.com/index.php?componentName=textBody&scid=84557
The California Allstars Smoed, or simply Smoed, is an elite cheerleading team based out of Camarillo, California. They were division World Champions for four years in a row from 2012-2015. The name "Smoed" is a portmanteau of the words "Small Coed", which comes from title of their competitive division (Small Senior Coed). Smoed is one of the teams featured in Awesomeness TV's reality show titled "Cheerleaders", alongside another California Allstars team, Reckless.
Smoed placed 6th at Cheerleading Worlds in 2016 and 4th in 2017 before winning back their world champion title in 2018. In 2019 they placed 4th competitively, and were meant to compete in 2020, however, the competition was cancelled due to the covid-19 pandemic.
i am smoed yuuurrrr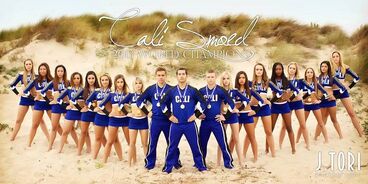 Also see: CA Smoed 2013 Team
This competition season was filmed by AwesomenessTV to become the documentary reality series. By Smoed winning another World Championship, they became the first Small Senior Coed team to do so. Half of the multiple championship-winning team had to leave at the end of this season due to location or age.
This season was the year that they were considered to not be able to win worlds again, due to low placement at early season competition. Angel Rice and Marci Lawson joined the team this season, and won worlds for the last of their repeats with Smoed.
2011: 2nd Place
2012: World Champions
2013: World Champions
2014: World Champions
2015: World Champions
2016: 6th Place
2017: 4th Place
2018: World Champions
2019: 4th Place
Kyle Desenberg
Joey Zielsdorf
Angel Rice
Marci Lawson
Payton Coon
Angeliana Naomi
Madi Corsello
Bri "Chimmy" Gutierrez
Sofia Angelo
Kassidy Neary
Jazzy Sanchez
Cami Wilson
Malieya Pittman
Sam Cole
Enrique Alexander
Coleman Payne
Ari Mode
Community content is available under
CC-BY-SA
unless otherwise noted.